If you don't see a frame with a list of cars at the left, click here.

Toyota Supra Turbo
---
Price $46,000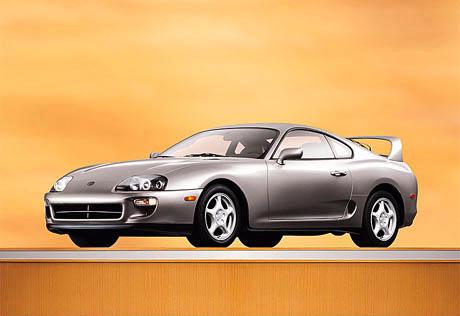 SPECIFICATIONS:
Engine type: DOHC 24 valves Inline-6 twin-turbo & intercooled
Displacement: 3.0L (2997cc)
Power: 320 bhp
Torque: 315 lb.-ft.
Redline: 6800rpm
Transmission: 6 speed manual / 4 speed automatic
Click here to see more specifications
PERFORMANCE:
0-60: 5.0sec
0-100: 12.3sec
1-150: 41.3sec
1/4 mile: 13.6sec
Top Speed: 155 mph
The Toyota Supra made a splash entrance in the sports car market when it was introduced. It was an affordable yet fast and luxurious sports car with great handling to match its power. The engine, developed 320 bhp which by the time was more than enough to make it one of the fastest cars around. Only the exotics were faster, but they were also much more expensive. Styling was another strong point on the Supra's list. It's a look that still draws attention from pedestrians. You parked the car, and you just had to look back when you were walking away. Its competitors included the Mazda RX-7, Mitsubishi 3000GT, Nissan 300ZX, Corvette and BMW M3 among others. However, this segment started to get less attention in the late 90s, so sales were going down. The 300ZX and RX-7 were the first to die, and a couple years later, so did the Supra and 3000GT. Today though, the rebirth of these sports cars is starting to happen, and Toyota should be releasing a new Supra soon.