If you don't see a frame with a list of cars at the left, click here.

Hyundai Tiburon FX
---
Price $18,180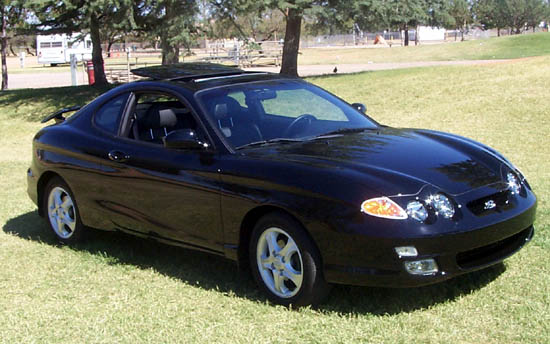 SPECIFICATIONS:
Engine type: DOHC 16 valves inline-4
Displacement: 2.0L (1975cc)
Power: 140 bhp
Torque: 133 lb.-ft.
Redline: 6600rpm
Transmission: 5 speed manual
Click here to see more specifications
PERFORMANCE:
0-60: 8.3sec
0-100: 24.5sec
0-150: N/A
1/4 mile: 16.3sec
Top Speed: 121 mph
Who'd have thought Hyundai would climb into the fun-car business? But here they are, and their zippy Tiburon, with its rock-and-roll styling, just happens to be a great car to drive. There are a plethora of manufacturers whose first sports cars didn't come to being as good as this Tiburon. The Tiburon is a 2+2, which means there's sort of a back seat, but for any kind of distance this is really a 2-seater. The Tiburon FX gets a 2.0-liter dohc 16-valve inline-4 that makes 140 bhp and can get the little Tiburon on the move. A 5-speed manual transmission is standard, and a 4-speed automatic is available for those who want to miss the fun. Something that can really grab you about this car is the great way it drives. It's one of the best-handling little coupes on the market. The steering feel and response is quick, smooth and precise. The handling is taut and nimble in tight spots, stable and secure in faster places. And you really can strap on a helmet and thrash it around a race track as hard as you please. Or, perhaps, cruise through suburbia is style.
UPDATES: The Tiburon had a facelift to give it a more agressive, but weird front styling. The rear also received some changes. Power remains the same.