If you don't see a frame with a list of cars at the left, click here.

Dodge Viper RT/10
---
Price $59,000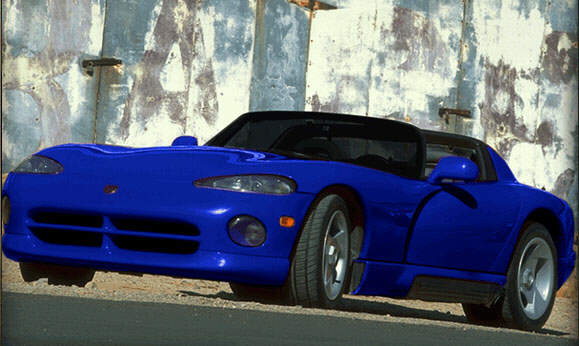 SPECIFICATIONS:
Engine type: OHV 20 valves V10
Displacement: 8.0L (7990cc)
Power: 450 bhp
Torque: 490 lb.-ft.
Redline: 6000rpm
Transmission: 6 speed manual
Click here to see more specifications
PERFORMANCE:
0-60: 4.0sec
0-100: 9.0sec
0-150: 22.6sec
1/4 mile: 12.2sec
Top Speed: 178 mph
In much the same way the original Cobra came to fruition, the Viper rapidly assumed its very controversial shape. Enploying no less than a skunk works approach and mindset, a handful of special projects engineers and wily bean counters (with no real expectation of profit) managed to produce a wind-in-your-face roadster that epitomizes the genre. This limited-production fire-breather is a true sports car, complete with side curtains and a vestigal top. It's built for open-air driving and the gratification only that configuration can supply. Its high-torque, all-alloy 8.0-liter V-10 passes 450 horsepower through a six-speed gearbox. Its pure intentions are solified by the lack of ABS. However, a high-output stereo system is standard equipment.
UPDATES: Now you can enjoy the Viper RT/10 with the 450 bhp version of the GTS which now has a 460 bhp version of the same 8.0L V-10.