If you don't see a frame with a list of cars at the left, click here.

Jaguar XJ220
---
Price $339,000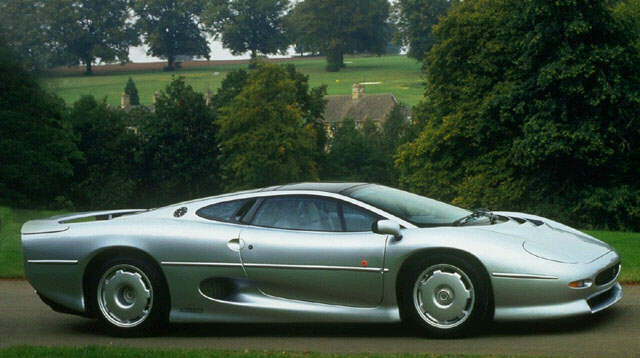 SPECIFICATIONS:
Engine type: DOHC 24 valve V-6 twin-turbo
Displacement: 3.5L (3497cc)
Power: 542 bhp
Torque: 475 lb.-ft.
Redline: 7200rpm
Transmission: 5 speed manual
Click here to see more specifications
PERFORMANCE:
0-60: 3.4sec
0-100: 7.9sec
0-150: 22.5sec
1/4 mile: 12.1sec
Top Speed: 213 mph
Sit in most supercars and you will find that creature comforts definitely take second place to performance. But the XJ220 is unique, cocooning you in traditional Jaguar luxury. The interior reeks of sumptuous leather. Air conditioning? Of course! Settle back -there's room for the tallest driver. But make no mistake, this cat crouches low like a predator ready to pounce. 100 mph is reached in just 7.9 seconds when you floor the accelerator. The mid-rear engine placement assures beautiful balance and the chassis offers massive structural integrity.