If you don't see a frame with a list of cars at the left, click here.

Jaguar Sport XJR-15
---
Price $821,000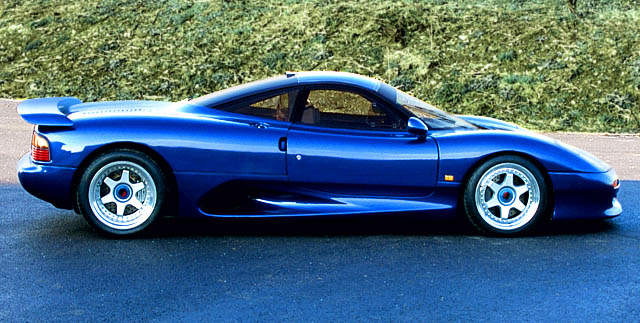 SPECIFICATIONS:
Engine type: DOHC 48 valve V-12
Displacement: 6.0L
Power: 470 bhp
Torque: 450 lb.-ft.
Redline: 6500 rpm
Transmission: 6 speed manual
Click here to see more specifications
PERFORMANCE:
0-60: 2.7 sec
0-100: 6.9 sec
0-150: 15.2 sec
1/4 mile: 11.1 sec
Top Speed: 199 mph
Using a computer diagnostic program I was able to get the acceleration times for this car. I know the 0-60 time of 2.7 seconds is too fast, but considering a power-to-weight ratio of 4.9 pounds per horsepower, it's believable. The top speed was reached at the redline, and there's enough power to take it up to 203 mph given larger gearing.