If you don't see a frame with a list of cars at the left, click here.

Jaguar XJR

Price $70,219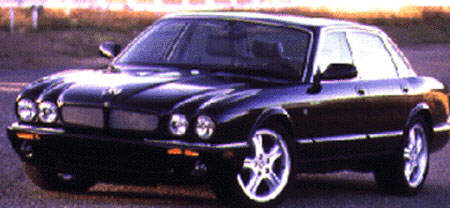 SPECIFICATIONS:
Engine type: DOHC 32 valves V-8 supercharged and intercooled
Displacement: 4.0L (3996cc)
Power: 370 bhp
Torque: 387 lb.-ft.
Redline: 6000rpm
Transmission: 5 speed auto
Click here to see more specifications
PERFORMANCE:
0-60: 5.0sec
0-100: 12.2sec
0-150: 34.8sec
1/4 mile: 13.5sec
Top Speed: 154 mph
Not many cars combine raw power with pure luxury like the new 1998 Jaguar XJR. Think of this car as the spiritual succesor to Jaguar's first hot-rod sedan, the 1960 MarkII, which used the 3.8-liter inline-six from the XK150 sports car and a slightly different body from the MarkII in 1960.
The XJR is all about speed and poise. It's the kind of car that goes fast without showing off. Yes, the XJR does get a body-colored sport grille, small badges, and 18-inch wheels, but that's there is to advertise the extra power. By the way, Supercharging and intercooling this V-8 infused it with 80 extra horsepower and 97 more pound-feet of twist, for a total of 370 horsepower at 6150 rpm and 387 pound-feet of torque at 3600 rpm. (that's 48 more horses and 9 more lb-ft than the XJR six produced.)
The new XJR weighs about 200 pounds less than the old XJR, and thanks also to more power and some changes in the gearbox, the acceleration is quicker. From rest, the XJR does 60 mph in 5.0 seconds and 100 mph in just 12.2 seconds. An improvement of, respectively, 1.4 and 3.9 seconds over the last XJR. The top speed is governed to 155 mph but the car ran out of steam at 154 mph. All this performance makes the XJR the fastest automatic-equiped sedan for sale in the U.S.