If you don't see a frame with a list of cars at the left, click here.

Jaguar XKR
---
Price $78,000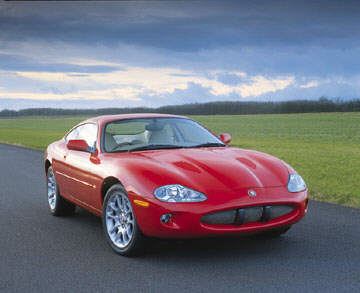 SPECIFICATIONS:
Engine type: DOHC 32 valves V-8 supercharged and intercooled
Displacement: 4.0L (3996cc)
Power: 370 bhp
Torque: 387 lb.-ft.
Redline: 6200rpm
Transmission: 5 speed auto
Click here to see more specifications
PERFORMANCE:
0-60: 4.9sec
0-100: 12.0sec
0-150: 38.7sec
1/4 mile: 13.5sec
Top Speed: 155 mph
Jaguar's 4.0-liter V-8 engine made its first appearance in the 1997 XK8 coupe and convertible and for '98 went into the XJ sedan. The XJR then became the fastest production sedan with an automatic transmission. The XK coupe is where this strong engine belongs, producing a GT car with tremendous performance that not only outperforms equivalent Mercedes and Bimmers but also out accelerates the latest Porsche 911. This coupe goes from a stop to 60 mph in 4.9 seconds, to 100 mph in 12.0 seconds, and through the quarter-mile mark in 13.5 seconds at 106 mph. This means that it paces with the six-speed 911 through the quarter mile and then pulls ahead until it gets to its governed 155 mph top speed. Then bad news is that you'll have to wait until next year or even the year 2000 when it comes to the U.S.