If you don't see a frame with a list of cars at the left, click here.

Subaru Forester 2.5XT
---
Price $25,520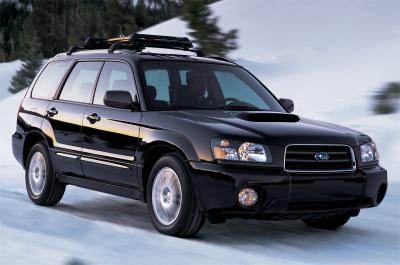 SPECIFICATIONS:
Engine type: DOHC 16 valve inline-4 turbocharged and intercooled
Displacement: 2.5L (2457cc)
Power: 210 bhp (my estimate: 300 bhp)
Torque: 235 lb.-ft. (my estimate: 300 lb.ft.)
Redline: 6500 rpm
Transmission: 5 speed manual
Click here to see more specifications
PERFORMANCE:
0-60: 5.3 sec
0-100: 15.0 sec
0-150: n/a
1/4 mile: 13.8 sec @ 97 mph
Top Speed: 129 mph
Why did I put my estimates you ask? Well, ever since underrating engines has become a new fashion among car makers, I have been trying to guess the real power output of the engines they produce. Take this new Forester for example. According to recent tests, it goes through the 1/4 mile in less than 14 seconds at a little under 100 mph. This in a car that weights almost 3300 lbs. Now lets do some research. How fast is the WRX STi? A close inspection reveals that these two are not far appart from their performance. Now, do you really want to believe this car has only 210 bhp, weights almost the same as the STi, and it's almost equal in performance? I thought so. Then when you come to think about it, this car has basically the same engine as the STi. Not the WRX's 2.0L 225 hp engine... the STi's 2.5L 300 hp engine. Anyway, I don't really understand what Subaru intends with this wagon... I mean, it's really powerful, but it's handling is not so great. Makes no sense to me to have a quick car with sloppy handling. Even more so in this kind of car. Why not install this in the Impreza wagon instead? Subaru fans will probably like this car, just like Porsche fans will end up liking the Cayenne, but in my book it remains a question whether this car makes any sense.